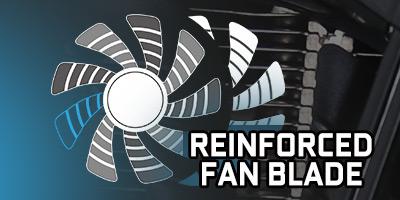 Reinforced Fan Blade
The Advanced Fan Blade design increases the stability of fan rotation.
With the carves on the blades, the air flow is smoother. So fan vibration and fan noises are much lower.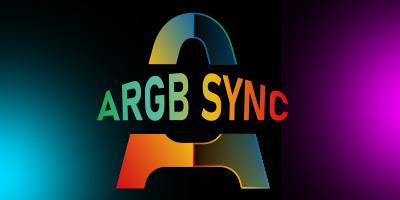 ARGB Lighting SYNC
ARGB SYNC allows you to sync the lighting effect with
all A-RGB devices in your PC system and enjoy the lighting symphony!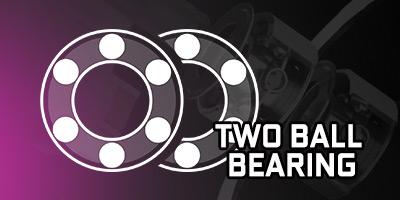 Two Ball Bearing
2-ball bearing to bring longer life span for the fan
– IP5X dust resistant technology
– Lower fan vibration
– Prolonged fan life expectancy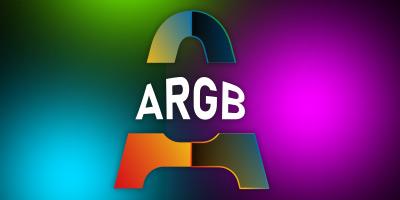 ARGB Lighting
Addressable RGB allows gamers to customize each LED color.
You can personalize the lighting effects with GAINWARD Expertool Utility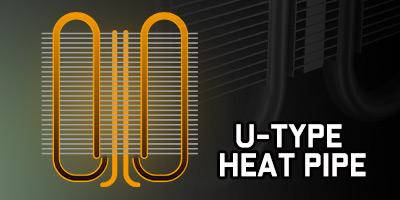 U-Type Heat Pipe
The heat pipes are specially formed into a double-U shape to enlarge the heat dissipation area. The efficiency of heat transfer is much higher than traditional heat pipe design.
(patent pending)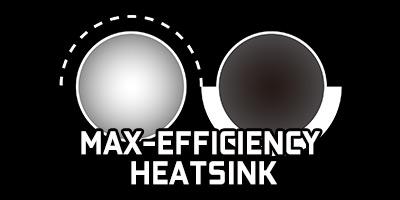 Max-Efficiency Heatsink
The fin design is molded with embossments to enlarge air contact area for most efficient heat dissipation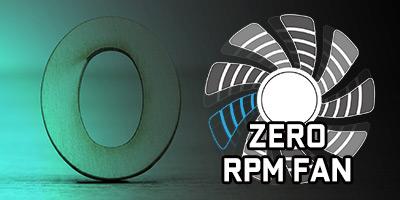 ZERO RPM FAN
The fans Keep stop rotation while you are experiencing the multimedia application or general workload. The fans start rotation while working on heavier loading such as gaming that the GPU temperature surpasses 60°C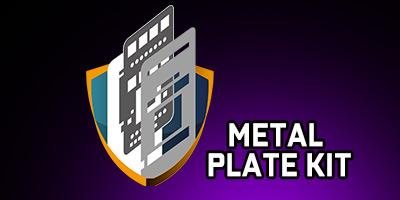 Metal Plate Kit
Two die casting molded plates fully cover the circuit board and directly attach to all the hot spots on PCB.
They provide:
• Strong-as-armor protection
• Optimized heat dissipation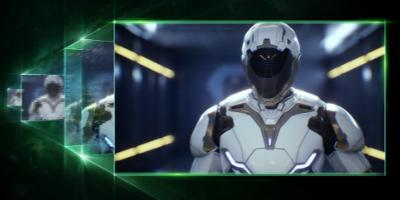 NVIDIA DLSS
NVIDIA DLSS (Deep Learning Super Sampling) is groundbreaking AI rendering technology that takes your visual fidelity to a whole new level using dedicated Tensor Core AI processors on GeForce RTX™ GPUs. DLSS taps into the power of a deep learning neural network to boost frame rates and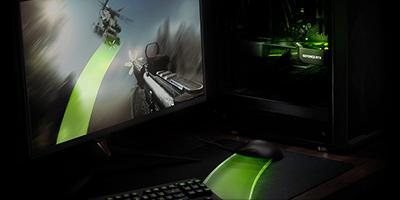 NVIDIA REFLEX
Acquire targets faster, react quicker, and improve aim through a revolutionary suite of technologies built to measure and optimize system latency for competitive games.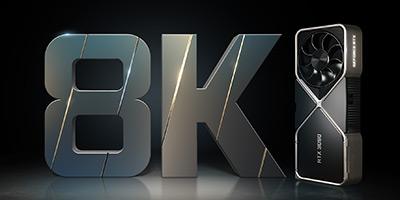 8K HDR
Connect, play, capture, and watch in brilliant HDR at resolutions up to 8K with GeForce RTX 3090. HDMI 2.1 makes it possible for 8K resolution on a single cable. Capture up to 8K HDR footage with the GeForce Experience™ ShadowPlay™ feature and play back smoothly with AV1 decode.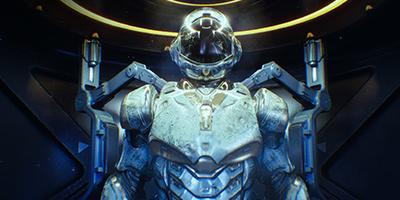 DIRECTX 12 ULTIMATE
Developers can now add even more amazing graphics effects to Microsoft Windows-based PC games. GeForce RTX graphics cards deliver advanced DX12 features like ray tracing and variable rate shading, bringing games to life with ultra-realistic visual effects and faster frame rates.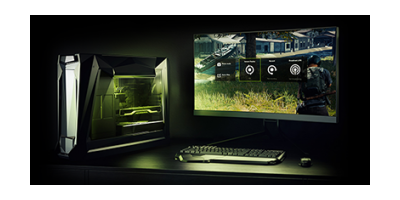 GEFORCE EXPERIENCE™
The essential companion to your GeForce graphics card. Capture and share videos, screenshots, and livestreams. Keep your drivers up to date and optimize your games.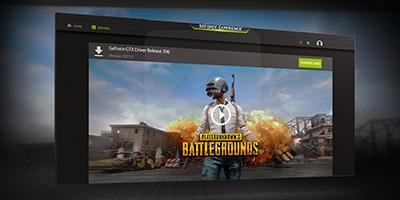 GAME READY DRIVERS
Get the highest levels of performance, and the smoothest experience possible, from the moment you start playing.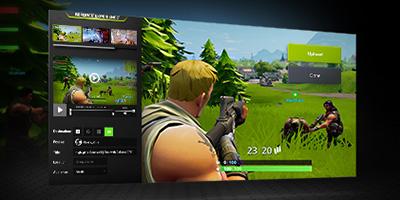 NVIDIA SHADOWPLAY™
Record and share high-quality gameplay videos, screenshots, and livestreams with your friends.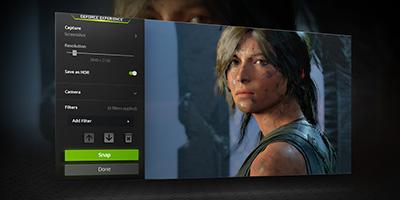 NVIDIA ANSEL
Turn your screenshots into art with this powerful in-game photo mode that captures 360, HDR, and super-resolution photos.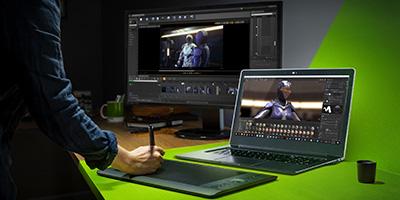 NVIDIA STUDIO
A new age of creativity is upon us, with the creative apps you depend on moving faster than you ever imagined. NVIDIA GPUs accelerate your work with incredible boosts in performance. Welcome to NVIDIA Studio—and your new, more creative, process.
VIRTUAL REALITY
By combining advanced VR rendering, real-time ray tracing, and AI, the GeForce RTX will take VR to a new level of realism.
NVIDIA G-SYNC®
Get smooth, tear-free gameplay at refresh rates up to 240 Hz, plus HDR and more. This is the ultimate gaming display and the go-to equipment for enthusiast gamers.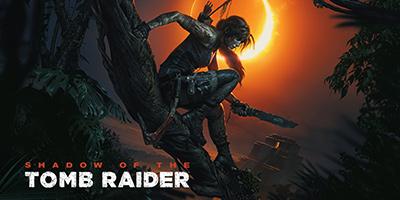 DIRECTX 12/DXR
Enables developers to add amazing graphics effects to Microsoft Windows-based PC games. GeForce graphics cards deliver advanced DX12 features such as ray tracing and variable rate shading, bringing games to life with ultra-realistic visual effects and faster frame rates.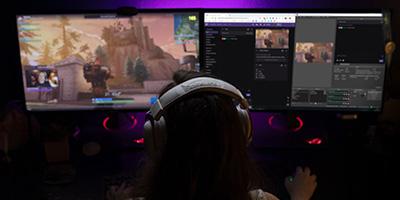 BROADCAST LIKE A PRO
The best of both worlds. GeForce RTX® 20 Series features a dedicated hardware encoder that unlocks the ability to game and stream simultaneously with superior quality. RTX graphics cards are optimized for your favorite streaming apps to provide maximum performance for your live stream.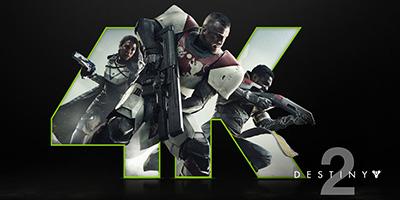 4K
Step up to the ultimate 4K gaming experience with the GeForce RTX and enjoy today's biggest games in amazing detail.